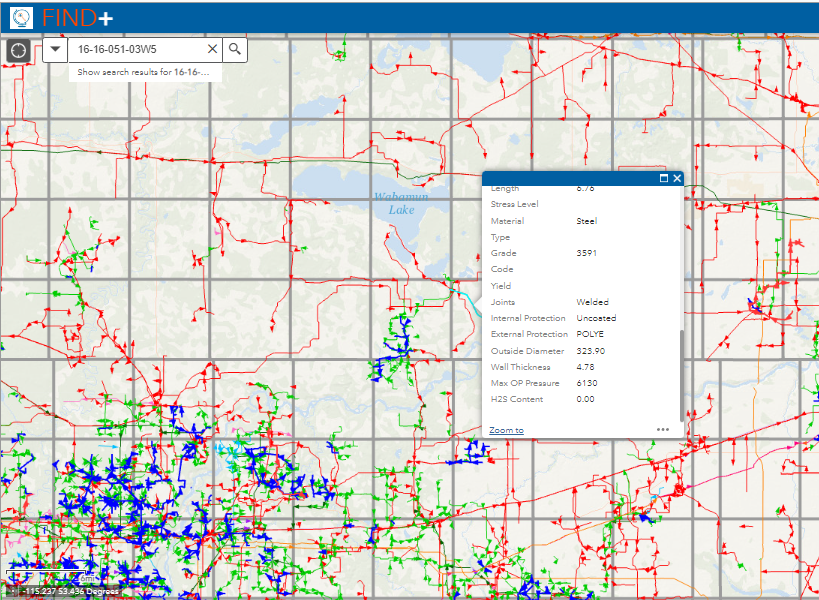 Find what you're looking for, instantly. For Free.
Cenozon's FIND+ takes everything we learned from our industry leading FINDᵖʳᵒ software, and makes it's core functionality available to everyone. Available as a web app, so you can access anywhere, on any platform, FIND+ allows you to view interactive GIS map with all pipelines in the AER database. FIND+ includes powerful filtering tools, so you can find your assets, and even send and share the location so others can get step by step directions.
Benefits
The power of a database, with the ease of a web-app.
100% free to use
No set up, all AER regulated assets are available, by default, with more assets to come soon
Save time by using powerful filtering tools, to simply find what you're looking for
Features
FIND+ gives you the information you need, when you need it, where you need it.
Built-in GIS and satellite mapping visualization + search by asset ID
Easily locate and view assets using townships, legal divisions (LSD) or GPS coordinates
Step-by-step directions to your assets, using your favorite maps application
 Available anywhere – our web application is available at the office, or on the go
FIND PRO
FLEXIBLE FEATURES
Our partnership approach ensures outstanding service at every step. Our FIND+ software allows anyone to access the powerful tools built on our years of experience. For those who need more advanced features, we have FINDpro. Contact us today and learn how we can help you extend control and cost savings across your operation.
Customize Your Software
Our software is designed with you in mind. At Cenozon we understand that all of our clients have their own unique needs. When you need a custom workflow, we're here to help.
ADD ON SUPPORT SERVICES
Following initial setup and training for your measurement or pipeline integrity software, we bring you a host of support capabilities, including field reviews, audit support, change management and more.