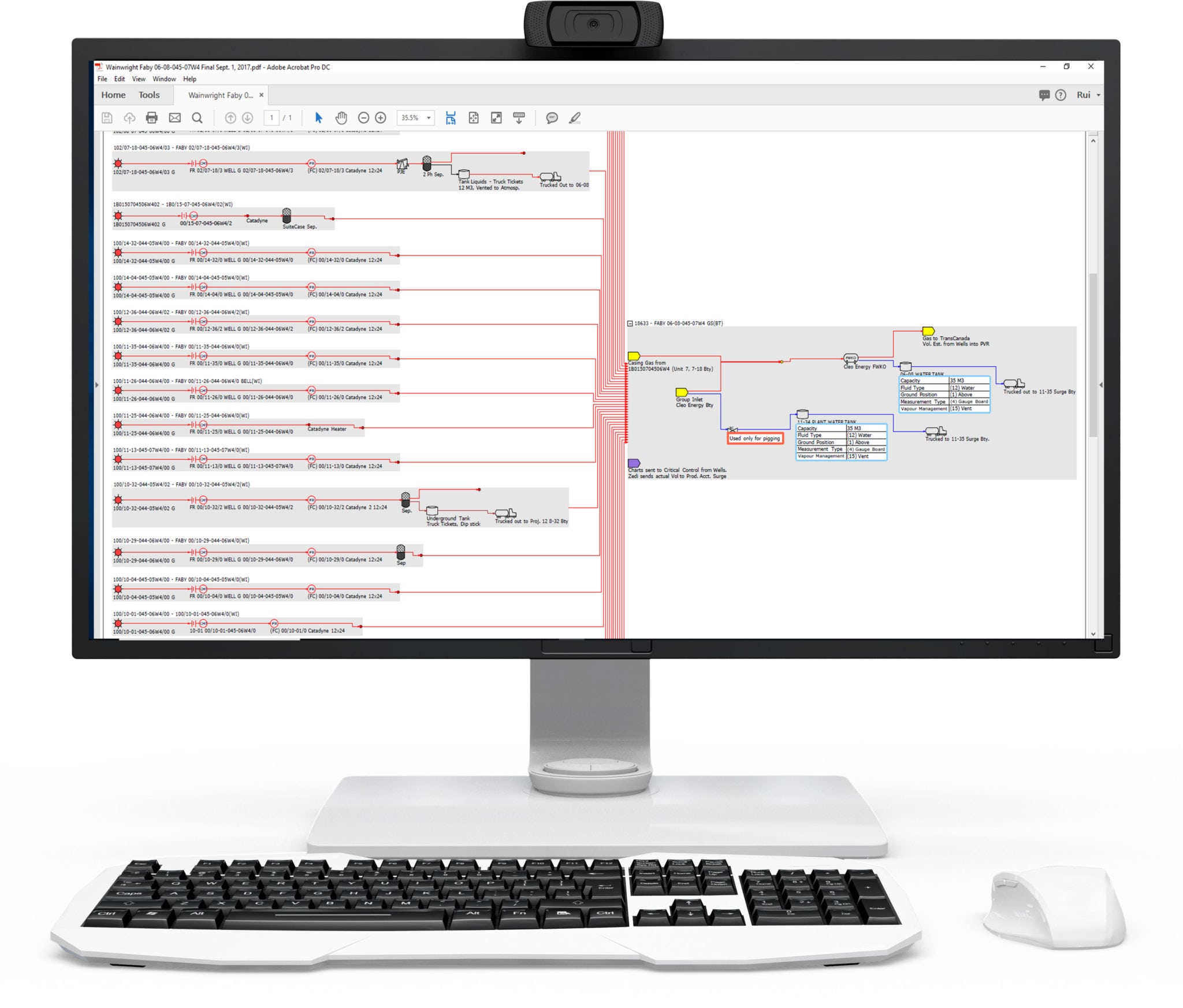 PIPELINE SCHEMATICS SOFTWARE THAT DELIVERS ACCURACY & CONSISTENCY
Introducing a smarter way to manage oil and gas schematics. With measurement Schematics, you're just a few mouse clicks away from Directive 17 and EPAP-compliant schematics.
Using data stored in your field data capture system and simple detail level customization paths, you have instant access to more than just specific schematics; Measurement Schematics delivers streamlined processes, improved communication and accuracy for significant savings across your operation.
Benefits
Designed to bring regulatory compliant data you need to your fingertips in minutes, Cenozon's pipeline schematics tool eliminates the stress, delays and costs of manually updated schematics.
Seamlessly maintain schematics
Access and edit securely stored data any time
Save time and money with operational efficiencies; reduce costly errors
Easily communicate changes between field, accounting and head office
Features
With an easy-to-use interface that makes training and daily use simple, our automated pipeline schematics program is loved by field engineers and accountants alike.
Easily archive and retrieve validated schematics
Automatically generate Directive 17 and EPAP-compliant schematics
Configure and synchronize the level of detail
Auto updates from FDC data
Store and display important field information, such as compressor HP, manufacturer, service dates, corrosion coupon codes, and more
PARNTERSHIP APPROACH
Our partnership approach ensures outstanding service at every step. From change management and audit support to helping you get the most out of our oil and gas data management software, we help you extend control and cost savings across your operation.
Choose Your Data Source
Our software is designed with you in mind. Our Measurement Manager software works with many different data sources to help you automatically pipeline schematics with ease.
ADD ON SUPPORT SERVICES
Following initial setup and training for your measurement or pipeline integrity software, we bring you a host of support capabilities, including field reviews, audit support, change management and more.
Request a Demo
See how we can save you time and money by automating and streamlining your processes that will ensure efficiency and compliance.