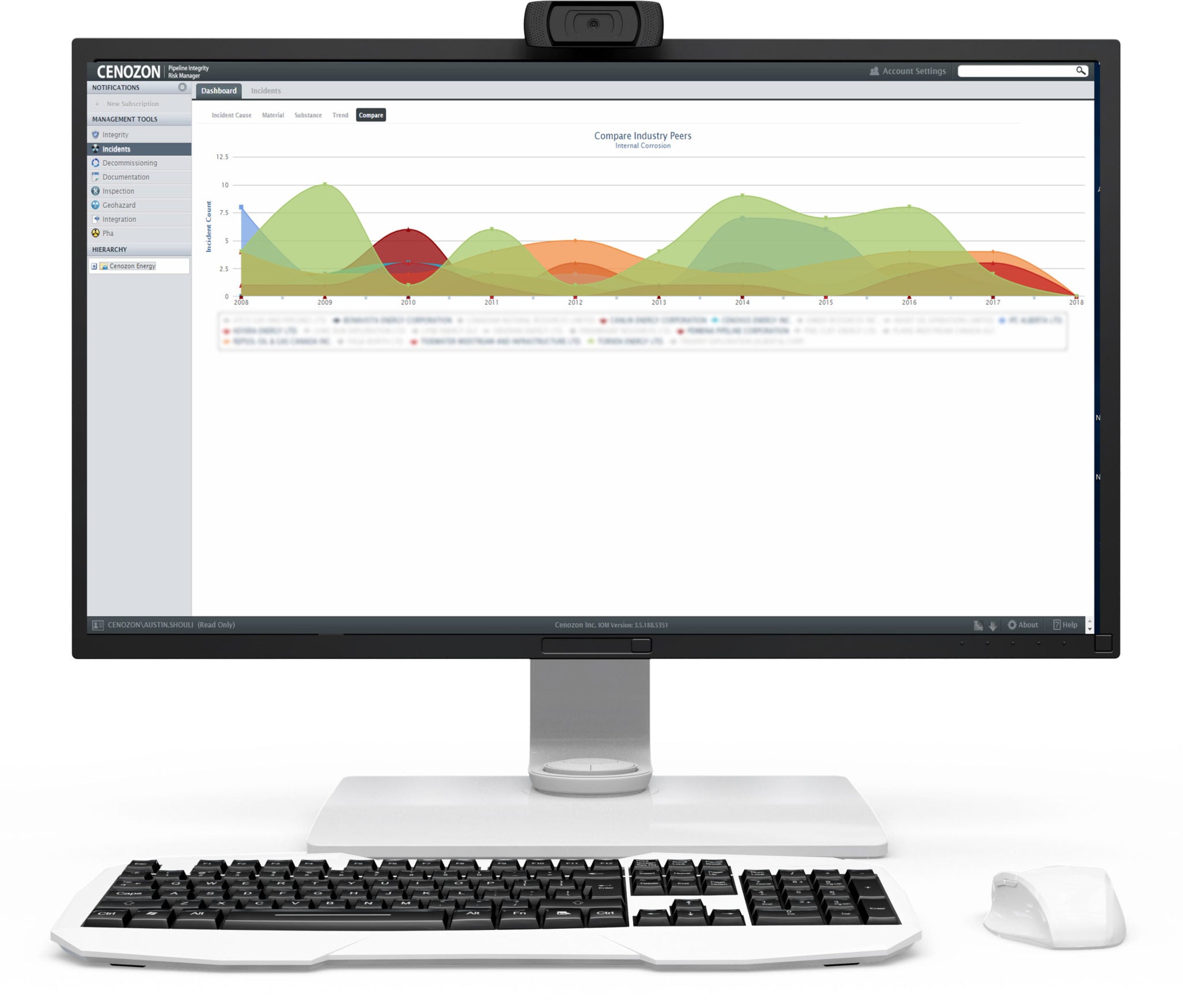 INDUSTRY'S MOST EFFECTIVE PIPELINE INTEGRITY MANAGEMENT SYSTEM
Cenozon designed Pipeline Integrity Risk Manager (PIRM) to exceed oil and gas companies' expectations of what pipeline risk assessment software could do.
In addition to real-time operations data integration and central document storage, PIRM can be accessed anywhere, any time. Now you can streamline processes, meet compliance and reduce pipeline incident rates.
Benefits
PIRM is the integrity management program that's going to help you reduce the risk of pipeline failure and see simplified processes along the way.
Reduce pipeline incidents
Identify and prioritize critical tasks
Optimize corrosion mitigation
Simplify and achieve compliance
Streamline processes
Features
Designed with field operators in mind, PIRM brings all the pipeline risk data you need to your fingertips with an exceptionally functional, accessible platform.
Intuitive, user-friendly dashboard
Instant visibility of pipeline risk with built-in GIS mapping
Benchmarks with industry's most up to date standards
Central document storage
Anytime, anywhere access
Real-time data
Automated pipeline risk assessment and notification
Case Study
Reduce Pipeline Failure Risk
Cenozon's PIRM software generates risk scores and provides users with a 47% lower incident rate than the industry average.
PARTNERSHIP APPROACH
Our partnership approach ensures outstanding service at every step. From change management and audit support to helping you get the most out of our oil and gas data management software, we help you extend control and cost savings across your operation.
The Flexibility You Need
Our software is designed with you in mind. PIRM is one of the most comprehensive pipeline integrity management tools on the market and you can easily customize your software by selecting the features you need to help you save time, save money and meet compliance.
SUPPORT SERVICES
Following initial setup and training for your measurement or pipeline integrity software, we bring you a host of support capabilities, including field reviews, audit support, change management and more.
Request a Demo
See how we can save you time and money by automating and streamlining your processes that will ensure efficiency and compliance.