August 1, 2019
Meet Glenn Skelton: Cenozon's Newest Software Developer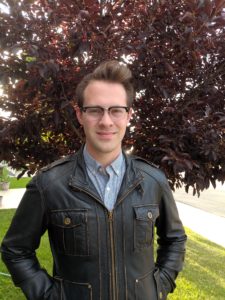 Meet Glenn, Cenozon's newest developer. He comes from a unique background as a professional classical musician. As a self-described tinkerer, he is a creative thinker who wants to understand how things work and has a multitude of interests and hobbies which include competitive fencing. Scroll down to learn more about Glenn:
What is your role at Cenozon?
I am part of the DevOps team at Cenozon. It's a role that involves many different types of technical problem solving such as designing, developing, and implementing software integrations and creating automation tools and frameworks for our products.
What interests you about Cenozon?
I like how Cenozon is working with lots of different technologies such as various cloud computing platforms and services, container software, and various web development tools and languages. I'm looking forward to expanding my knowledge and ability to apply these technologies to solve new problems.
Can you briefly describe your work experience for the past 3-5 years?
For the past 2 years I've been working towards my Bachelor of Computer Science which I completed at the University of Calgary. Prior to that, I was a sessional instructor at the University of Alberta serving as the director of the Concert Band, as well as a professional musician for many years. I see computer science and music as duals of each other where music exercises my artistic creativity; computer science allows me to express my scientific creativity.
What do you like to do outside of work?
I will continue to play music in my free time. I'm also an avid competitive fencer. As a tinkerer, I like to play around with my Raspberry Pi. To wind down, I enjoy playing video games in tandem with my wife. We play games like Assassins Creed and Far Cry together. It's really fun! These days, I'm also trying to get outside more and enjoy the summer season. I love doing yard work and gardening.
What inspires or motivates you?
I love learning new things. I've always been interested in expanding my knowledge and improving my ability to solve problems creatively. That is what drives me as developer, a musician, and in the other aspects of my life.